MONTREAL, January 9th, 2013 – Pierre Roy & Associés, bankruptcy trustees, published the first edition of its survey on the state of personal finances and debt of Quebec university students.
The survey was administered electronically, mostly via social media, to 123 participants between October 29th and November 5th à 2013. Participants came from several Quebec universities: University of Montreal, UQAM, Concordia, McGill, Laval University, and others.
The survey follows the latest events linked to the student crisis and tries to analyze the financial situation of university students. Particular attention has been paid in regard to funding, debt and expected remuneration after graduation.
Funding
Students finance their personal expenses (food, clothing, entertainment, etc.) with a part-time or full-time job (34.82%) and/or with the help of their parents (21.73%).
Scholarships are unpopular. Only 11.18% of students reported using them to pay for their expenses.
Many students use credit to finance their spending. Credit cards and student loans are respectively used by 16.29% and 15.97% of students to pay for their personal expenses.
47% of participants believe they would have completed their studies without the use of credit while 21% said it would have been impossible. A portion of the participants (32%) is divided on this issue.
Debt
41.23% of students surveyed said they had no student debt so far. However, only 29.82% of the participants believe they can finish their education without debt.
Some students need to borrow heavily for their studies. Indeed, 13.16% of participants indicated owing currently over $20,000. In addition, 3.51% think they will owe over $50,000 by the time they graduate.
Among students with student debt, 37.8% believe they will repay their debt in less than a year. 25.61% expect a repayment period of more than 4 years and 6.10% estimate the duration of the repayment of their student debt to be over 10 years.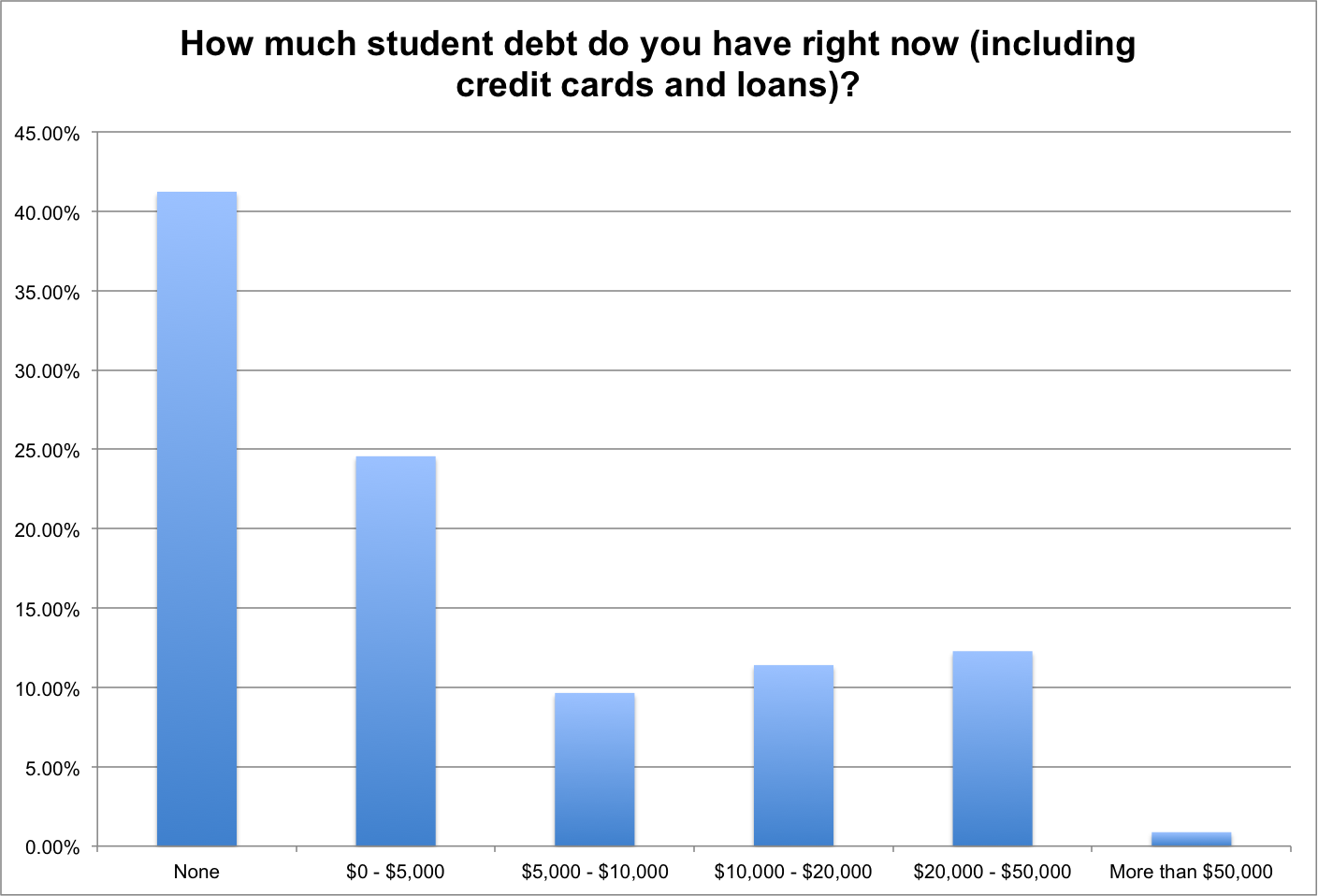 Income
The majority (55.26%) of students think that they will earn between $40,000 and $50,000 after graduation. Few (24.56%) are more optimistic and expect to earn between $50,000 and $75,000.
The majority of students (59.65%) expects to earn between $50,000 and $75,000 5 years after graduation. This time, optimists (15.79%) hope to earn between $75,000 and $100,000.
About Pierre Roy & Associés
Pierre Roy & Associés is a bankruptcy trustee firm established in 1990, providing help to Quebecers struggling with debt problems. The company mission is to enable people with financial difficulties to make a fresh start, debt free. The firm now has 14 offices in the Greater Montreal Area.
To learn more about Pierre Roy & Associés, visit www.pierreroy.com or call 1 (877) 796-3427.
For more information about this survey, please contact Jonathan Roy by email at jroy@pierreroy.com or by phone at 514 453-9857.